Pandemic Insurance Protection For Hospitals – Protecting Those Who Protect Us
May 24th, 2017 | 4 min. read
By David Huss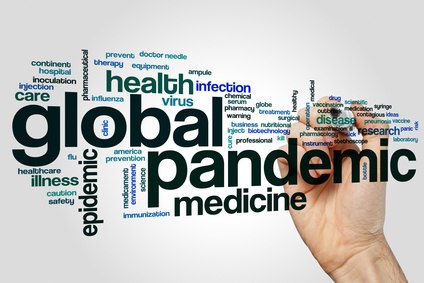 On May 15, 2017, the TIME magazine cover article warned in big bold black letters: WE ARE NOT READY FOR THE NEXT PANDEMIC. Like death and taxes, future pandemics are inevitable. Data modeling suggests that there are 1.3 million viruses yet to be discovered, with perhaps 500,000 of those potentially strong enough to jump from their host species to humans.
The World Health Organization tells us that a pandemic is an infectious disease that meets three conditions: it is a new virus, it causes severe symptoms in humans, and it spreads easily form person to person.
Pandemics appear to be on the rise. During a five-year period from 1970 through 1975, 61 "high consequence infectious disease outbreaks" were documented. For the five-year period from 2010 through 2015, 196 such "high consequence" outbreaks were recorded.
Why a spike of more than 300%? Perhaps it's a matter of better surveillance and medical diagnostics. But other factors are likely, not the least of which is a vast improvement in global transportation over the last 40 years. Bubonic plague, first discovered in China in the 1320s, took until 1347 to arrive in Europe, and then took another five years to spread across that continent. Now viruses travel by air, capable of moving across the globe in a matter of hours. More land is in use, more forests and jungles have been cut down, and there is more interaction between mankind and the "host species" where those viruses reside until a mutation allows them to jump a "species barrier."
And when those viruses hop onto an airplane, the first line of defense is hospitals.
West Nile Virus first arrived in the United States in 1999, has infected 28,000 individuals and has a death rate of 3%. Bird species are particularly susceptible to West Nile virus, which is spread by mosquitos. The earliest outbreaks of encephalitis caused by the West Nile virus centered around JFK and LaGuardia airports in the New York metropolitan area, leaving little doubt as to how the virus arrived.
Whether a virus spreads via airborne transmission, like SARS (Severe Acute Respiratory Syndrome) and MERS (Middle East Respiratory Syndrome), or is transmitted by bodily fluids, like Ebola, the highest at-risk population is healthcare workers. MERS sickened 184 people in South Korea in 2015; 18% were healthcare workers. When the SARS epidemic hit Hong Kong in 2003, 22% of cases were healthcare workers. When SARS spread through Toronto, arriving by air courtesy of a Canadian woman who contracted the disease on a visit to Hong Kong, 45% of the 375 infections were healthcare workers.
And outbreaks are costly. MERS cost the South Korean economy $23 billion in 2015. The combined effects of SARS on Hong Kong and Toronto in 2003 amounted to $54 billion, much of it coming in the form of lost tourism revenue. Hospitals were again on the front line. One Toronto hospital documented over C$12 million in costs associated with treating 33 SARS patients. More recently, during the 2014 Ebola outbreaks, one U.S. medical center recorded $1.85M in expenses to treat one patient, spending more than $100,000 per day just for infectious waste disposal.
Two hospitals illustrate the risks and perils of treating pandemic patients. In 2014, an individual traveled from an Ebola-impacted West Africa country to Dallas, Texas. He went to Texas Presbyterian Medical Center for an initial treatment. Ebola was not suspected, and he was released. With worsening symptoms, he returned to Texas Presbyterian Medical Center, was correctly diagnosed as having Ebola, and contact and bodily fluid precautions were initiated. Two nurses at the hospital contracted Ebola and 147 healthcare workers were exposed. All 147 workers were quarantined for three weeks. The patient ultimately died, and while both nurses survived, the public panicked. Over the two-month duration of the crisis, ER visits to that facility dropped 49%, inpatient days dropped 22%, and the hospital documented $20.3M in lost revenue, not including the extra expenses associated with Ebola patient care and quarantined employees.
However, a New York hospital stands in direct contrast. They treated an Ebola patient – a physician who returned from an Ebola-affected West African region. This hospital was alerted to the incoming Ebola patient, and immediately initiated all Ebola treatment protocols. No healthcare workers were exposed, no one was quarantined and the physician ultimately recovered.
I am only aware of one carrier that has developed a product to protect hospitals from some of the financial perils they face in treating pandemic patients – AXIS Insurance. AXIS Insurance offers a business interruption and extra expense product with $50M in coverage triggered by governmental imposed quarantines, declines of 25% or more in inpatient days, declines of 25% or more in emergency room visits or declines of 25% or more of healthcare professionals showing up for work during a pandemic. Coverage applies to any contagion, virus or bacteria, whether known or unknown, or even a mutation of an existing virus.
AXIS Insurance's pandemic product also helps hospitals prepare for a pandemic by using outside pandemic experts to conduct an on-site day-long evaluation of an insured hospital's pandemic preparedness, after which the experts provide recommendations for improvement.
Pandemics are an unfortunate certainty of the modern world. Don't let your hospital client become one of the victims of the next global health crisis.
Contact David Huss, Jonathan Waterman or Lindsay Youngs at Ethos for more information and a quote on pandemic coverage.
Ethos Insights
Pandemics can result in crippling expenses for the hospitals and healthcare workers responding to them.
There is now available insurance protection for hospitals that helps to mitigate the potentially catastrophic financial risks associated with pandemic outbreaks.
Ethos can provide it's retail clients with this pandemic insurance option for their hospital insureds – helping to protect those that are protecting us.