Confusing Terminology? Our Deepest Apologies, George.
September 21st, 2016 | 3 min. read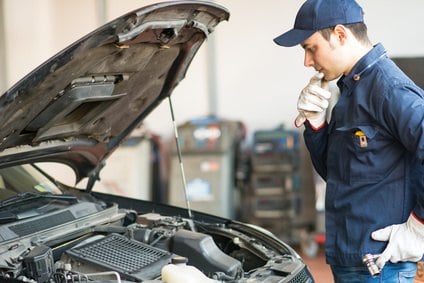 I've been helping insure the healthcare industry for more than twenty years. During that time, I've heard or used a lot of jargon, acronyms and puzzling terminology with underwriters, agents and the like. It reminds me of the "Seinfeld" episode where George bemoans the fact that car mechanics can recommend virtually any repair by tossing in confusing verbiage because the average customer won't understand anyway. "They can make up anything! Nobody knows!," he rants. Even if they insist a car needs a new "Johnson Rod," George points out how the baffled customer often has no choice but to agree.
In our business, we have our share of "Johnson Rod" expressions too. And I'm sure I've confused a few people by using terms that attempt to describe the breadth and complexity of what I do when acting as a "specialty wholesale broker for the healthcare industry." The important difference between us and the mechanics described by cynical George Costanza is that we're out to help – not fleece – our customers.
We recently debated this topic around our office. We all recognize that the insurance industry is full of confusing terminology. But, we realize that many of us use differing terminology when collaborating with our clients to describe the two key determinants of when we engage our wholesale brokerage services:
1. Classes of business
When we talk about being a "specialty" broker, we are really defining the industry segment that ultimately buys the policies we put together. At Ethos, that industry segment is generally known as the "healthcare industry." Of course, this is a huge industry represented by a term that encompasses a lot of different types of businesses we help to insure.
And this is where some confusion lies. The term "healthcare" doesn't just mean medical services provided to a patient by doctors, hospitals and outpatient facilities. This is the traditional definition we've probably all used for years. However, healthcare in today's world now intersects with several other industries, such as:
• Managed Care Organizations – health insurance plans, utilization and peer review services, etc.
• Life Sciences – clinical research organizations, biotech, pharmaceuticals, etc.
• Senior Care Services – nursing homes, assisted living centers, senior day care centers, companion care, etc.
• Social Services – mental health treatment, substance abuse facilities, services for the physically and developmentally disabled, etc.
We can also insure the consultation, billing and management services that serve these industry groups. So, when we say that we can help our retail agents with anything that's healthcare-related, this embodies a lot of different types or classes of business that we can help them insure.
2. Lines of Coverage
We also have a bad habit of using the jargon term "med mal" when talking about what we do. That can be a confusing term to many retail agents in particular because it's often misunderstood as medical malpractice insurance for doctors only.
The truth is that we've started replacing that term in our own lexicon with the more easily understood term "healthcare liability." In other words, we specialize first and foremost on placing professional liability policies with our retail partners for their insured clients in the healthcare industry.
This means a "healthcare liability insurance policy" is synonymous with a "medical malpractice insurance policy". It's important to recognize this because many agents may not realize that these are the same lines of coverage; it's the same type of insurance, just described two different ways.
Of course, there are other lines of coverage that we work with, too. "Management liability" sometimes suffers a similar fate when it is termed synonymously with "Directors and Officers Liability (D&O)" or with "Employment Practices Liability (EPL)".
"Cyber" policies are usually the same thing as "Network Protection" or "Privacy Breach" type policies. These are all lines of coverage that we work with that can be confusing simply because of word choices!
It seems appropriate now to offer up a heartfelt apology on behalf of myself, my company, my competitors and the entirety of the insurance industry. So, here we go:
"Dear retail agent: You are very important to us. We are sorry for the constant use of jargon that may at times be confusing. Please accept our apologies. Ethos Insurance Partners promises to be clearer in the future, and will never make you feel like you're being talked into purchasing a Johnson Rod or anything remotely resembling one."
Now, let the clarity begin. George Costanza would be pleasantly surprised!
Ethos Insights
Industry jargon and overlapping market segments can add a layer of confusion to an already complex business.
The term "medical malpractice insurance" is synonymous with "medical professional liability insurance" and "healthcare liability insurance."
Ethos is always available with explanations and answers to help retailers find the solutions they need.