Clinical Research Organizations (CRO): Important Liability Insurance Issues
July 17th, 2014 | 4 min. read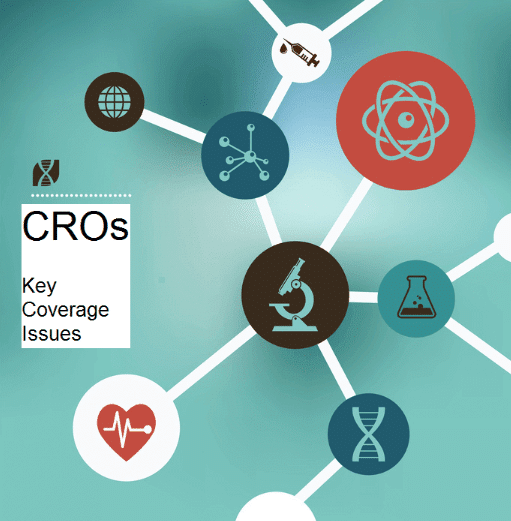 [This is Part 3 of a 3-Part series of posts that explore Clinical Research Liability.]
Have you been asked to provide liability insurance for a CRO? If so, there are a few things you need to know that can help you become an expert insurance agent for that industry.
What is a CRO?
Clinical Research Organizations (also known as Contract Research Organizations) are often referred to by the popular acronym: CRO. When pharmaceutical, biotech and medical device companies sponsor a new clinical trial, they usually hire one or more CROs to aid with the development, implementation and management of their trial. CROs can provide a variety of clinical research services or specialize in one particular niche. Essentially, they represent the 'cottage industry' of contract services that surrounds the growth of clinical trials.
Services provided by CROs include (but are not limited to):
Developing protocols for a clinical trial
Hosting and managing the site where the trial is conducted
Research and study of trial data
Establishing the Principal Investigator for the trial
Helping the trial sponsor meet regulatory requirements
"Pharmaceutical and biotechnology companies devote a greater percentage of their budgets to R&D than does any other U.S. industry," said BCC Research in a 2010 post. An online business journal notes that the number of Clinical Research Organizations quadrupled to 3,100 from the years 2000 to 2011. So, as cottage industries grow to meet marketplace demands, the insurance industry will likewise rise to meet the needs of these new areas of risk.
2. Are there unique insurance products for CROs?
In 2007, Darwin Professional Underwriters, Inc. created the first liability insurance product specifically designed for CROs. They called it their clinical research liability insurance (CRLI) product. Darwin has since been purchased by Allied World Assurance Co. (AWAC), but the product remains and is still supported by AWAC's healthcare liability department. This product was unique at the time because it specifically addressed the two main areas of risk that were mentioned in our previous blog posts: Medical Professional Liability (MPL) and Business E&O.
Prior to the creation of the Darwin product, insurance agents were relegated to covering a CRO's liability through generic E&O policies or product-liability based 'life science' policies. That was problematic because those policies didn't usually provide coverage for bodily injury claims; and, when they did, the coverage was not very broad or specific to the unique role of a CRO and its staff. Today, there are a growing number of insurance products that adequately cover these exposures, but knowing how to navigate through them can be difficult.
3. What are the key points to consider when placing a CRO's liability insurance?
Identify clearly what kind of work the CRO is typically engaged in. Ask if the CRO has any staff that come into direct contact with clinical trial participants. If they do, this increases the CRO's medical professional liability risk which is not always covered by the trial sponsor's insurance policy.
Review the contracts the CRO negotiates with client-sponsors. These contracts often contain insurance and indemnification clauses that stipulate how much insurance the CRO must carry. It's common for a large pharmaceutical or biotech company to require high limits of liability insurance.
Check for any possible products liability exposure. Some CROs create certain kinds of proteins or other products that they will sell as part of their research kits or services. That may mean that they also have some products liability exposure that needs to be covered. This may not always be expected by a carrier.
Analyze their current coverage and look for potential gaps. Many physicians and researchers don't always see where and how they might be sued for a wrongful act. A good insurance policy will close as many of those gaps as possible.
Avoid restrictive insurance policy language. Some insurance policies try to restrict coverage for a CRO's work in specific situations. If the CRO has plans to expand their business or they fail to tell you or their carrier that they perform that kind of work, then they may find themselves needlessly exposed to uninsured risk.
Insurance agents, wholesale brokers and underwriters have to carefully navigate through these details and more. So, be sure you're working with an expert(s) who knows how to do that well.
Clinical Research Organizations are a growing industry and need insurance agents that really understand their business and the unique nature of their risk. Every business owner and administrator wants to know they've got the best coverage their dollar can buy. Many CROs may not actually be getting that right now, so consider how you might add value to a CRO you know.
Feel free to contact us for help in reviewing, analyzing and placing liability policies for your CRO client.